About BittaKidda!
The idea for the Bitta Kidda Wearable Lovie came in the middle of the night as one 4-month-old baby boy was watched on the video monitor. He was struggling as he awoke between sleep cycles, his arms were flailing and there was nothing to calm him down. After some close observations, the idea came to create something that baby could hold. This is how the Wearable Lovie was born.
The same boy who started wearing it learned the art of self-soothing and independence in his crib. He slept confidently and consistently with a Lovie that was always with him.
Bitta Sack is a great modern-day solution to the age-old tradition of giving a Lovie to your baby. It serves as a self-soothing mechanism and keeps the crib a safe place, free of loose bedding and traditional security items.
When using Bita Sack, parents no longer must choose between ignoring the safe sleep recommendations and supplying the ever-important Lovie their baby needs.
Unique features of the BittaSack include:
100% cotton velour Lovies strategically placed where babies will find them for self-soothing.
Internal Stay put adjustable diaper cover keeps BittaSack securely positioned.
The diagonal zipper makes diaper changing simple while baby stays in the BittaSack.
Shoulder snap closure for easy on and off.
BittaSack will not cover face or twist around the baby.
A garment made of 100% natural cotton.
To be worn as a blanket layer over sleepwear.
Starting at age 3 months.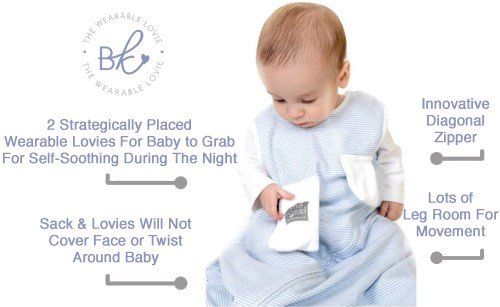 Thoughtfully designed sleep garment cannot twist around the baby
or cover baby's face and safely provides movement in the crib.
Lovie can't be lost in the crib or tossed out of the crib
The genius diagonal zipper is easier to zip and also allows baby
to stay comfortable while you easily change diapers.